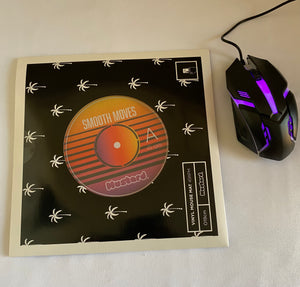 Smooth Moves mouse mat gift set
Sale price Price $18.00 Regular price Unit price / per
Become your very own desk DJ with this fun mouse mat! With no needle to adjust and no risk of scratches, you can take your mouse out for a spin as you tackle your task list, track by track.
The mouse mat is packaged in a statement slipcase, just like a classic vinyl album.
And to add an extra throwback, this gift set includes a color changing mouse. 
Black corded computer mouse.
This trendy mouse cycles through colors every few minutes. The color change is gradual.
Breaks the monotony when you're sitting at the computer for hours.